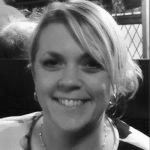 Welcome to your October Bitesize.
Welcome back to a new academic school year. This edition of Bitesize brings together a range of DfE updates, useful resource signposts and some helpful classroom guidance for quality first teaching.
We certainly didn't plan on what we ended the year with and, for many of you, this term may be the cause of much anxiety as we reintroduce ourselves and our pupils to each other whilst working in many new ways which appear to change all of the time. Please remember that:
We don't know what we don't know so can only deal with what have in the here and now. Last term and almost overnight we reconceptualised our education offer and our children continued to learn in many unique and challenging circumstances. It can be scary but we can and are going to do this!
For many of our vulnerable children you are their constant and stable adult.
You are braver and stronger than you think!
We will get through this.
You can't pour from an empty cup. Make sure you look after yourself and seek support where and when you need it.
I remain tremendously proud of and grateful all that you are doing for our children and young people!
Stay safe and well!
Beccie Hawes x
About ADHD A Guide for Children
The ADHD Foundation has developed a free to download booklet for primary school aged children that have recently been diagnosed with ADHD. This twenty four page booklet contains several positive messages and focuses upon the development of supportive strategies. It could also be useful to support families and to develop peer awareness in schools. It can be accessed via the following link: https://www.adhdfoundation.org.uk/wp-content/uploads/2019/01/Childrens-Guide_FINAL.pdf
The Engagement Model
In March 20-20 DfE published final guidance on the Engagement Model. Replacing P scales 1-4, this is a new form of assessment for pupils that are working below the standard of the national curriculum tests and not engaged in subject-specific study. It is set to become statutory from the 2020/21 academic year.
5 areas of engagement of measured:
exploration
realisation
anticipation
persistence
initiation
These five areas allow teachers to assess pupils' engagement in developing new skills, knowledge and concepts in the school's curriculum by demonstrating how pupils are achieving specific outcomes. They represent what is necessary for pupils to fully engage in their learning and reach their full potential. The engagement model does not replace existing planning and assessment systems and schools will have autonomy over how it will be implemented. It encourages schools to measure each pupils' progress independently, according to their individual profile of needs. It can also be used as a baseline tool to track and support ongoing progress.
The document can be found at:
https://www.gov.uk/government/publications/the-engagement-model
The following website also contains useful reading and resources:
Recovery, Re-introduction and Renewal: A Handbook for Schools and Educational Settings Following Critical Incidents
In a school context, a critical incident is: 'any incident or sequence of events which overwhelms the normal coping mechanisms of the school community' (National Educational Psychology Service (NEPS), 2016) Existing research evidence and practice tell us that school communities and individuals can and do recover from such events by drawing on their existing strengths and resources.
Key predictors of successful recovery or protective factors include:
1. Connection / Relationships.
2. Flexible Coping Skills.
3 Sense of agency/control e.g. being actively involved in your own recovery process.
Written by educational psychologists, the Recovery, Re-introduction and Renewal handbook presents five guiding principles of recovery and a graduated response framework for schools to use in planning the return to school at individual, group and whole-school level. It also includes references to practical resources to share with young people, staff and parents.
The handbook is free to download from: https://www.aep.org.uk/recovery-re-introduction-renewal/
When Someone Special Dies
'When Someone Special Dies' is a free to download workbook for children under seven years of age. It was written in consultation with bereaved families and is designed to help children to talk about their feelings and to remember the person who has died.
This workbook and other useful resources can be accessed at: https://www.childbereavementuk.org/primary-schools-support-for-the-family
Keeping Children Safe in Education: Update
On 17th June, DfE released a new version of 'Keeping Children Safe in Education (KCSIE)'. This is for information only at present but comes into force on 1st September 2020. Here is a summary of the main changes:
The main changes for Part One are:
Guidance makes clear that both mental and physical health are relevant to safeguarding;
Paragraph 21 clarifies that safeguarding incidents can take place outside of school and between children.
Paragraph 28 is new and provides staff with information about child criminal exploitation and child sexual exploitation.
There is a new section on mental health. This outlines that only trained professionals should attempt to make a diagnosis of a mental health problem. It also links to a range of resources to help with mental health. (Paragraphs 34-38)
Paragraph 56 covers what staff should do if they have safeguarding concerns about another staff member who may pose a risk of harm to children. It is now clear that this applies to supply teachers also.
The main changes for Part Two are:
Paragraph 70 now links to the NPCC guidance on when to call the police.
Paragraphs 74-78 update the arrangements for multiagency working. It explains how the LA; the clinical commissioning group; and the chief officer of police for an area should work together.
Paragraphs 84 -86 outline how GDPR should be understood in terms of safeguarding. In particular it outlines where information should, and should not, be shared. Fears about sharing information must not be allowed to stand in the way of the need to safeguard children. There is also a data protection toolkit.
Paragraph 94 now reflects the new RSHE curriculum from September 2020. There is flexibility about how this is implemented in the first year.
Paragraphs 101-102 make clear that staff should follow the guidance in Part four to manage allegations that might meet the harm threshold. This is a legal
duty and failure to refer when the criteria are met is a criminal offence.
Paragraphs 109-112 outline the risks and support available for children with a social worker.
There is a new section on children requiring mental health support, to raise the profile of this issue and to signpost some resources.
There are no changes in Part Three (Safer Recruitment).
The main changes for Part Four (Allegations Against Staff) are:
There is an additional bullet point in terms of individuals who may pose harm in that they:
'have behaved or may have behaved in a way that indicates they may not be suitable to work with children'
This is important because a distinction is being made here about transferable risk. For example, if a member of staff has perpetrated domestic violence where children are not involved. Schools are now being asked to consider if this makes them unsuitable to work with children: 'What triggered these actions and could a child in the school trigger the same reaction, therefore being put at risk?'
There is also clearer guidance on what to do if supply teachers have allegations made against them. Not to simply cease using them, but investigate fully.
There are no changes to Part 5 (child on child sexual abuse).
Annex A has been updated to include more detail on:
Child Criminal Exploitation (CCE);
Child Sexual Exploitation (CSE);
County Lines;
Domestic abuse: Makes clear domestic abuse can impact on children when they witness it;
Honour-based abuse (not violence – it includes nonviolent abuse.);
Preventing radicalisation;
Upskirting
The SENCo To Do List
Some important back to school jobs to help you to get ahead of the game:
☐ Review policy
☐ SEN Information Report (add a COVID section to show what is currently on offer)
☐ Check website compliance
☐ Schedule APDR cycles
☐ Agree dates with outside agencies for visits
☐ Schedule EHCP reviews
☐ Staff CPD
☐ Has everyone got what they need? (Transition, medical information, SEND lists…)
☐ Equality objectives
☐ SEND in a nutshell
☐ Baseline assessments
☐ Intervention schedule
☐ Update provision maps
☐ Check on transition success or further support needed
☐ Update SEN register
☐ Early Responses?
☐ Your vision for SEND: Clarity
SEN in England Statistics from the January 2020 School Census
On the 2nd July 2020 the government published data from the January 2020 school censuses on pupils with special educational needs (SEN).
This data could be useful in helping you to consider where your setting is at in relation to national comparisons. Careful consideration could be given to:
Are you over/under identifying SEN in your setting? If you are over the national figure consider why this is. What is unique about your context and the impact this has upon the identification of SEN?
Have you got any good news stories? What are you doing to make this so and how can this good practice be disseminated throughout your school?
Are there areas of concern? What do you need to do about this?
Key Headlines:
Across all schools, the number of pupils with an EHC plan has increased by 8.7%, from 271,200 to 294,800 in January 2020. This represents 3.3% of all pupils, an increase from 3.1% last year. This continues the trend of increases seen from 2018, after remaining steady at 2.8% of the total pupil population from 2007 to 2017.
The number of pupils with SEN support has also increased, by 3.0% to 1,079,000 in January 2020. This represents 12.1% of all pupils, an increase from 11.9% in 2019.
This gives a total of 1,373,800 pupils with SEN, or 15.5% of all pupils. This has increased from 14.9% in 2019.
3% of all pupils in schools in England have an Education, health and care (EHC) plan, a rise from 3.1% in 2019.
A further 12.1% of all pupils have SEN support, without an EHC plan, up from 11.9% in 2019.
The most common type of need for pupils with an EHC plan is autistic spectrum disorders and for pupils with SEN support is speech, communication and language needs
SEN is more prevalent in boys than girls, with boys representing 73.1% of all pupils with an EHC plan and 64.6% of pupils with SEN support
Primary Need:
82,800 pupils with an EHC plan were recorded as having autistic spectrum disorder as their primary type of need. This equates to 30% of all pupils with an EHC plan, and is a small increase from 29% of all pupils in 2019.
The second most common type of need is speech, language and communication needs, at 15% of all pupils with an EHC plan, unchanged from 2019. These types of need were also the most prevalent in 2019.
Among pupils with SEN support, the most common type of need is speech, language and communications needs, with 237,000 pupils (24% of pupils with SEN support) recorded as this type of primary need, this is a small increase from 23% in 2019.
The next highest type of need is moderate learning difficulty, with 211,600 pupils (21% in 2020, down from 22%) and then social, emotional and mental health with 194,111 pupils (unchanged at 19% of pupils with SEN support).
Pupil Characteristics:
1% of all pupils with an EHC plan are boys. This is a small increase on 2019, when 72.9% were boys.
The gap is narrower for SEN support, with boys making up 64.6% of all pupils with SEN support.
SEN is most prevalent at age 10.
The percentage of pupils who have SEN increases as age increases through primary years, up to a peak of 19.0% of pupils at age 10. It then declines through secondary ages, down to 15.4% at age 15.
SEN support decreases from age 10 This pattern is driven by SEN support, which increases in primary ages to 15.2% at age 10, before decreasing to 12.9% at age 11 and continuing to decrease at a slower rate through secondary years to 11.4% by age 15.
The percentage of EHC plans continues to grow with age, throughout all schools age. The percentage of pupils with an EHC plan, however, continues to increase as age increases, all through primary and secondary school ages, from 2.4% at age 5, to 3.8% at age 10, and to 4.0% by age 15.
As in previous years, pupils with SEN are more likely to be eligible for free school meals.
The percentage of pupils with an EHC plan who are eligible for free school meals is 34.6%, more than double that for pupils with no SEN (14.9%). The percentage of pupils with SEN support eligible for free school meals is 29.9%.
Each of these figures shows an increase of 2019; in line with increases seen in the overall pupil population for free school meals.
Pupils whose first language is known to be English have higher rates of SEN
0% of pupils whose first language is known or believed to be English have SEN. This is higher than those whose first language is known or believed to be other than English, at 12.6%. This is broadly similar to last year.
The highest percentage of EHC plans are held by the White – Irish traveller group
5% of pupils with White – Irish traveller recorded as their ethnicity have an EHC plan, and a further 24.9% have SEN support. These are the highest rates for both EHC plans and SEN support.
Black Caribbean has the second highest rate for EHC plans, at 4.7%, followed by any other Black background. The second highest rate for SEN support is among the Gypsy/Roma group at 22.6%.
The lowest rate of EHC plans is the Asian – Indian group at 2.1% and the lowest rate for SEN support is the Chinese group, at 5.5%.
The full document can be found at:
 https://explore-education-statistics.service.gov.uk/find-statistics/special-educational-needs-in-england#releaseHeadlines-dataBlock-1
Some Useful Resources to Explore
https://www.sendgateway.org.uk/whole-school-send/find-wss-resources.html
Editable Word versions are available.
Condition specific videos – could be good to signpost for NQTs.
Demonstrating Inclusion Tool
This guide can be used by Senior Leadership Teams to consider inclusion within their setting, and explores how inclusion is communicated through policies, enacted in practice and experienced by stakeholders. Each section can be taken alone, or all five combined together. This guide has been designed with self-reflection in mind, but can also be used as part of a professional dialogue across settings.
Effective SENCo Deployment
This guide has been designed for SENCos and their line managers. It covers how key operational and strategic elements of role can be structured and enacted, and offers frameworks for determining areas of priority to develop. This guide can also be used in conjunction with the SENCo Induction Pack.
SEND Reflection Framework
This guide can be used by any classroom practitioner to reflect on and refine their pedagogy for pupils with SEND. The guide can be used by individual teachers, subject or phase teams or as part of a whole school development strategy. This guide can be used flexibly, for example by focusing on one statement or section, or undertaking a full review.
Teaching Assistant Deployment Review Guide
This review guide aims to support the effective deployment and management of teaching assistants.  It can be used by SENCos and other TA line managers as a tool for both school self-assessment and improvement, and to support a process of school-to-school review and support.
Governing bodies and SEN governors can use this guide to explore how effectively they support high quality SEND provision in their school or schools.. The guide is structured to follow the six features of effective governance.
https://www.sendgateway.org.uk/whole-school-send/sencos-area/
The Pragmatics Profile of Everyday Communication Skills in Children
The Pragmatics Profile is an informal interview carried out to explore a child's communication in everyday interactions at home or at school. It asks questions about how the child usually reacts in each of a series of situations. The person responding describes in his or her own words the way the child typically behaves and this description is recorded on the interview schedule immediately under the question. Depending on the child's level of development, users can choose either the pre-school or the school-age version. The questions in the Profile have been devised to be relevant to a very wide range of children from those without any difficulties to children with severe problems in communicating. The use of the Pragmatics Profile can be backed up with other methods of obtaining information about a child's communication. The important feature of the Profile's approach is the value it places on the knowledge and insights of parents, teachers and others who know the child well and on their role in helping make the child's everyday interactions as effective as possible.
This document is freely available from as a PDF from: http://complexneeds.org.uk/modules/Module-2.4-Assessment-monitoring-and evaluation/All/downloads/m08p080c/the_pragmatics_profile.pdf
It could be of value in assessing and tracking progress, developing an overview of current skills from a range of sources and deciding upon appropriate intervention approaches.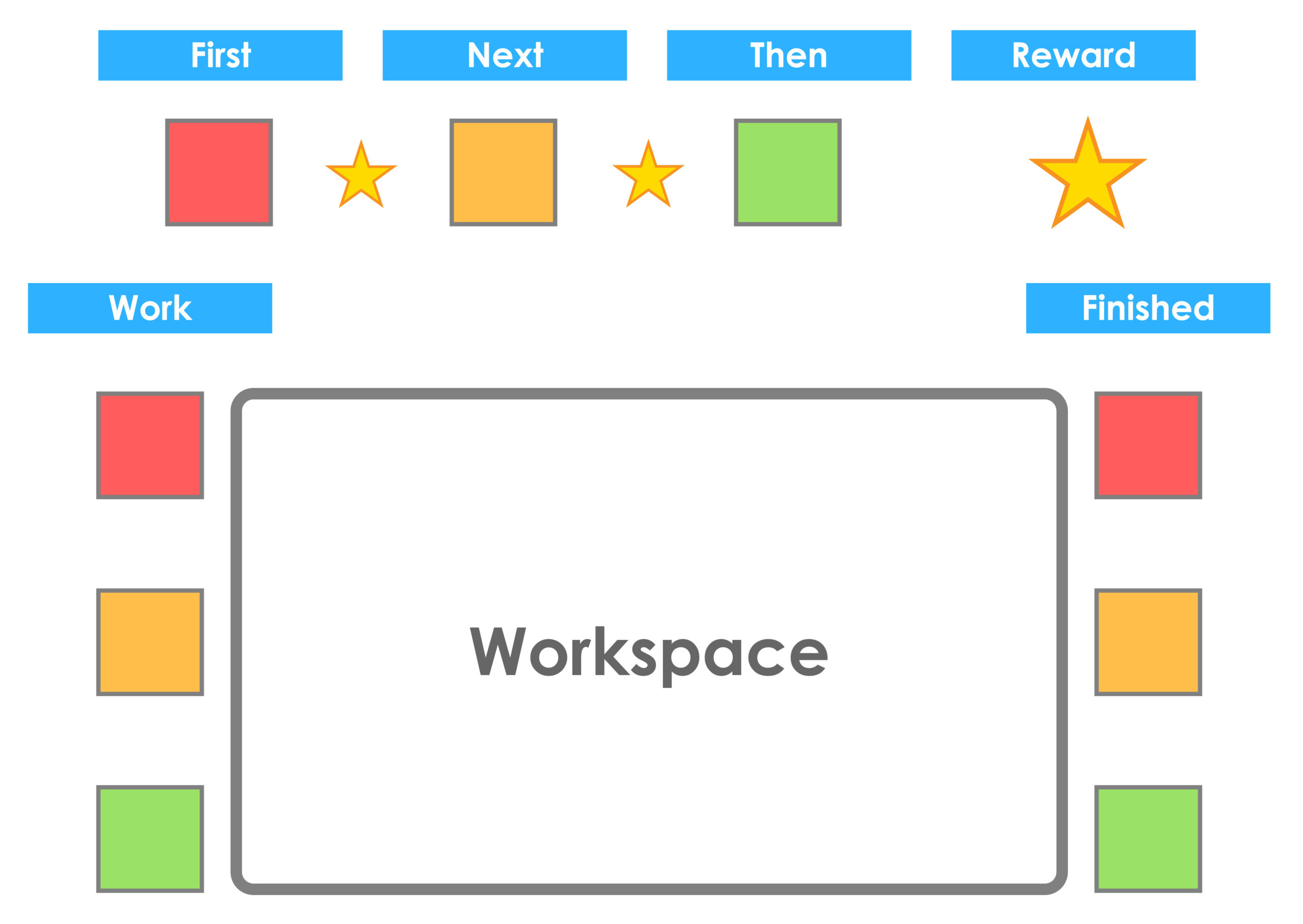 Developing a Workstation Approach
A well-developed workstation approach sets out clear expectations and will encourage independence. The above graphic could be used as a template which a pupil can have on their desk to help them with task organisation, maintenance and completion.
The learner works from left to right.
All tasks are ready in the work box(es)/folders/drawers.
Each session at the workstation has a visual timetable or sequencing strip to support the development of independence.
Therapy or teaching tasks are organised in order with a clear model of finished.
When tasks are finished they are placed in the 'finished box' and the learner begins the next task.
Motivators and rewards are built in.
Sessions should be fun, contain a range of varied activities and foster a feeling of success.
Offer a low arousal space.
Can include a timer to indicate how long.
Activities:
Familiar, practical and fun.
Could be pre-teaching/exposure for classroom activities (adults will need to support these initially).
Have a clear 'finished'.
Be resourced in advance.
Could support a developmental curriculum or rehearse basic skills acquisition and maintenance.
Be frequently refreshed and varied.